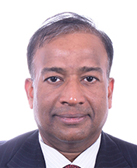 Mr. Lloyd Mathias is an Angel Investor and Business Strategist. He is a Board Member and Advisor to companies in the technology and consumer space. He invests, advises and collaborates with founders of early stage companies in the areas of AI, EdTech, consumer internet, data analytics and digital technology. Mr. Mathias has held senior leadership roles in Fortune 500 companies across India and APAC. He was the marketing head of HP Inc's $12 Billion PC business for the APAC region based in Singapore till 2018. In previous corporate roles he was President & CMO of Tata Docomo, Country Sales Director for Motorola, Executive VP and Category Director for PepsiCo India and South Asia. Mr. Mathias has been Chairman of MRUCI, publishers of the Indian Readership Survey IRS. He was also Chairman of Mobile Asia – Asia's largest mobile phone expo and Co-Chairman of the Device Strategy Council of the Mobility Development Group, USA- a body of global CDMA Telecom operators.
He is a science graduate from Mumbai's St. Xavier's College; has an MBA from Bombay University and did Senior Executive Program at the London Business School.
An acknowledged thought leader, Mr. Mathias has written op-eds, columns on and has been quoted on business and policy issues in The Times of India, Economic Times, Hindustan Times, Mint, Business Standard, Financial Express, CNBC, ET Now and The Straits Times, Singapore. He writes on ESG; Internet Policy, Business Ethics; AI, IOT and the Future of Work.