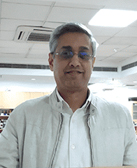 Mr. Ramesh Menon is a seasoned business leader with three decades of rich and diverse experience across Consumer, Technology, Retail and Digital Media. He has General Management experience in both Multinationals and Family owned, professionally run, organizations across geographies. He has a successful track record in managing complex and challenging environments, leading startups and turning around businesses, in situations involving change management, digital transformation, restructuring and team building. He also has a proven ability to drive business through conceptualizing and evolving strategy, augmenting and streamlining channel and distribution networks and delivering large revenues, increasing market share and meeting business growth objectives in highly competitive environments.
Currently, Mr. Menon is Chief Business Officer - Digital Innovations and New Businesses at HT Media Ltd. His role involves, evaluating and funelling internal and external Ideas and Innovation and taking them through to launch as independent Start-ups with Agile internal teams. In his association with HT group, he has set up and launched 4 new digital businesses across categories such as Podcasting, Health and Wellness, on-premise Music and Advertising and an E-commerce marketplace for Audio content and Services. Besides running these businesses, he is currently working on building an Online classifieds portal, HTClassifieds.com, an Online Advertising Sales and Media planning platform for small businesses, HTAdworks.com and transforming the sales engine of the company into a Digital Inbound Sales organisation through GTM 2.0.
Prior to joining HT group, Ramesh was CEO (Small Formats) at Future Retail where he led the digital transformation and aggressive on ground expansion of the small format neighbourhood Food and grocery business across the country to over 1100 physical stores across the country. He was CEO of Hypercity Retail from Feb 2015 – Jan 2018, and prior to that he has worked in organizations like Reliance Communications, Bharti Airtel, Spencers Retail, PepsiCo, Colgate Pamoilve and ITC Limited.
He completed his Post Graduate degree in Business Management (PGDBM) (Marketing & Finance) from XLRI, Jamshedpur in 1990 and BA (Economics) from University of Madras, Chennai in 1987.